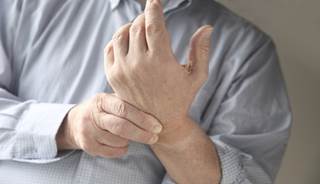 An association was found showing that those who suffer from carpal tunnel syndrome more prevalently have migraine headaches.
Plastic surgeons at UT Southwestern Medical Center have demonstrated for the first time an association between
migraines
and
carpal tunnel syndrome
, with migraines more than twice as prevalent in those with carpal tunnel syndrome as those without, according to the study.
Researchers found that 34 percent of patients with carpal tunnel syndrome also reported migraines, compared to 16 percent of patients reporting migraines without carpal tunnel syndrome. Researchers also found the reverse: 8 percent of patients with migraines reported having carpal tunnel syndrome, compared to 3 percent of those with migraines but no carpal tunnel syndrome.
"Because carpal tunnel syndrome and migraine
headache
are so common, this association is relevant to the large number of people who suffer from these conditions. The association of these two distinct disease processes is a fascinating connection that needs to be explored further," said Dr. Douglas Sammer, Associate Professor of Plastic Surgery and Orthopaedic Surgery, and Chief of the Hand and Upper Extremities Division in Plastic Surgery. "Although we have theories, at this time we simply don't know why people with carpal tunnel syndrome are more likely to have migraines, and vice versa. A deeper understanding of how and why this connection exists may lead to earlier diagnosis or even the ability to implement preventive measures."
The findings suggest it may be worthwhile for physicians to perform peripheral nerve compression exams in the head and neck on patients with migraines, the researchers concluded.
Further studies are needed to determine whether migraines may be an early indicator for future nerve compression problems such as carpal tunnel syndrome, the researchers said, as well as whether there is a hereditary component to the diseases. Because migraines are more common in younger patients, and carpal tunnel syndrome is more prevalent in older patients, it could be that migraines sensitize the central nervous system to develop pain signals from later nerve compressions, according to the study.